California Endorses Permanent Partners Immigration Act
Country's Most Populous State Supports Equality for Binational Same-Sex Couples
FOR IMMEDIATE RELEASE
SUNNYVALE, Calif., Aug. 19, 2004 - Love Sees No Borders, an educational organization focused on raising awareness of the plight of same-sex binational couples and their fight to remain together, today hailed the passage of Assembly Joint Resolution 60 by the California State Senate. The resolution supports the federal Permanent Partners Immigration Act (PPIA, H.R. 832/S. 1510), and was authored by California State Assemblywoman Sally J. Lieber (D, A-22).
"It is inherently un-American to force one population to choose between a life partner and their country, when the majority of citizens do not have to make that painful sacrifice," stated Assemblywoman Lieber. "Ultimately, love is love. I am convinced that the personal, touching stories of loving binational couples caught in the web of discriminatory immigration policies will serve as the catalyst to inspire much needed change. It was a pleasure working with Love Sees No Borders in introducing this resolution in the legislature."
"This is a very important day in the fight for immigration equality for binational same-sex couples," said Leslie Bulbuk, co-founder of Love Sees No Borders. "California has taken a stand by saying that it will not tolerate the senseless separation of American families due to obtuse immigration laws. Once again California is leading the way in recognizing that all citizens should be protected under the law, and that all Americans should be able to sponsor a loved partner for immigration regardless of their gender."
On July 24 this same resolution was approved in the California State Assembly, making California's support of the Permanent Partners Immigration Act official. AJR 60 now moves back to the Assembly for concurrence on several technical amendments, and to be formalized. The resolution then will be sent to all California delegates in both chambers of Congress, to the leadership of both houses and to the White House, urging their support of the PPIA.
The PPIA would add the words "or permanent partner" each time the word "spouse" appears in immigration law. Permanent partners would face the same stringent requirements faced by heterosexual spouses. In addition, the PPIA defines a permanent partner as an individual over 18 years of age who is:
(a) in a committed, intimate relationship with another adult 18 or older in which both parties intend a lifelong commitment;
(b) financially interdependent with that other person;
(c) not married to, or in a permanent partnership with, anyone other than that other person;
(d) unable to contract with that person a marriage cognizable under the Immigration and Nationality Act, and
(e) not a blood relative of the sponsoring partner.
"California is home to 12% of the nation's population and has the most Fortune 500 companies. It has the largest delegation in Congress, and is the fifth largest economy in the world," said Marta Donayre, co-founder of Love Sees No Borders. "It makes utter sense for this great state to support diversity and enable families to live stable lives without fear of separation. These are important ingredients for a healthy economy and a healthy country. These are the core of family values and I'm delighted that the California Legislature has shown their support for this resolution."
Love Sees No Borders helped introduce the measure and Equality California sponsored it.
About Love Sees No Borders
Love Sees No Borders is an organization dedicated to promoting awareness of the plight of same-sex binational couples in the United States. Our work includes media outreach, public speaking and other educational activities. For more information about the organization and how to support our efforts through a donation, please visit www.loveseesnoborders.org.
###

Note to Editors: Leslie Bulbuk is a woman.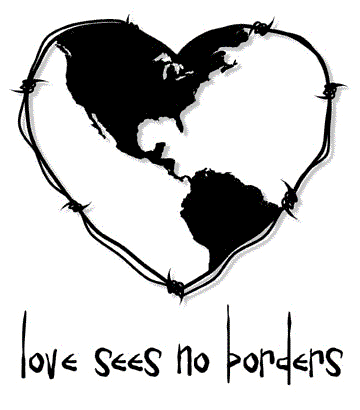 Copyright ©2004 Love Sees No Borderspyright ©2003 Love Sees No Borders