Day 2: Thrusday, March 23

Momentum is building around the country. 100,000 people rallied in Chicago last week; 30,000 people walked out of their jobs in Milwaukee, Wisconsin yesterday and took to the streets; this morning, 10,000 people in Phoenix, Arizona marched to Senator Jon Kyl's office; and this morning, thousands of Los Angeles students walked out of school – all raising their voices to stop anti-immigrant bills in Congress!

Bay Area - we need your support! Come out tomorrow (Sat, March 25) at noon to the SF Federal Building for a National Day of Solidarity rally, and march with us at 11am on Mon, March 27 to Senator Dianne Feinstein's office to send a strong message to her: "Oppose the Specter Mark!" NOW is the time to stand up for immigrant rights! NOW is the time to take action!
- - -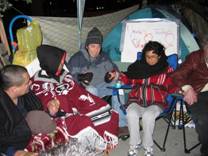 This was the most physically grueling day for the hunger strikers so far. Several experienced nausea, dizziness, and headaches; our eldest hunger striker – whom we affectionately call abuelita (grandma) – registered high on the blood pressure meter. Nurse Stephan Lynch and other medical volunteers will continue monitoring their vitals.


While physical ailments challenged the hunger strikers, the love and encouragement of supporters continue fueling hunger strikers' calls for Senator Feinstein and other members of the Senate Judiciary Committee to take leadership in opposing Chairman Arlen Specter's bill. One hunger striker explains, "It's the little things people do – cracking jokes, smiling, digging through boxes looking for earmuffs to keep us warm – that are so filled with love that make all the difference."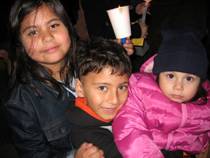 During the day, survivors from a battered women's shelter stopped by to make signs with words of encouragement. Media outlets continued to send reporters, and organizers prepped for Saturday's huge noontime rally at the SF Federal Building.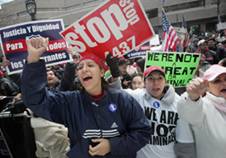 Bay Area communities were encouraged to hear that, today, 10,000-30,000 people walked out of their jobs in Milwaukee, Wisconsin and marched downtown in what was billed as "A Day Without Latinos." Read the Wilwaukee Journal Sentinel article and view the interactive slideshow. Momentum is clearly building across the nation.


Nearly 70 families and concerned Bay Area residents arrived for our 6pm candlelight vigil. Everyone signed postcards to be delivered to Senator Feinstein's office on Monday when scores of Bay Area residents will march to Senator Feinstein's office at 11am from the SF Federal Building. We need more signed postcards. Download them on the BAIRC website, get your friends to sign them, and bring them to the hunger strike by Monday.

After the candlelight vigil, we asked hunger striker Jay Pugao why he got involved in opposing Specter's bill:

"This is something that breaks up families. It forces educators like me to turn in my undocumented immigrant students and call them 'criminals'. We're shaping young leaders and organizers. They are not criminals.

The same thing goes for the elderly in my community – the Filipino community. These bills would force me to turn in my titos and titas (uncles and aunts) who are working and paying taxes. They are the foundations of the workforce in this nation, although they don't reap the benefits of it. These bills would further drive them underground and force them to hide." – Jay

Jay is a long-time educator, artist, and activist. He works with the RIDE Project, which empowers young Asian American men to become health advocates and young leaders. He also teaches performance and martial arts with a violence prevention curriculum at numerous community centers and schools throughout the Bay Area including Logan High School, Youth Uprising, East Oakland Community High School, and Destiny Arts.
- - -

HUNGER STRIKE AT U.S. FEDERAL BUILDING
450 Golden Gate Avenue @ Larkin, San Francisco, CA

-- SEVEN DAYS OF ACTION & EVENTS --

Sat, March 25 – HUNGER STRIKE – DAY FIVE – NATIONAL DAY OF SOLIDARITY

12:00 P.M. National Day of Solidarity and Press Event connecting Bay Area to actions happening across the nation
6:00 P.M. Candlelight vigil

LOVE SEES NO BORDERS WILL BE JOINING THE HUNGER STRIKERS AND FASTING THROUGHT THE WEEKEND!!!!!!!!!
Sun, March 26 – HUNGER STRIKE – DAY SIX
6:00 P.M. Candlelight vigil

Mon, March 27 – LAST DAY – MARCH TO SENATOR FEINSTEIN'S OFFICE
11:00 A.M. Community March to Senator Feinstein's office Starts @ Federal Building
12:00 P.M. Press Event – Community March ends at Montgomery & Market outside Senator Feinstein's office
Read more at http://www.immigrantrights.blogspot.com/