SF HUNGER STRIKE AND WEEK OF ACTION
As reported by Leslie Bulbuk and Marta Donayre
Weekend Report: Saturday marc 25 - Monday March 27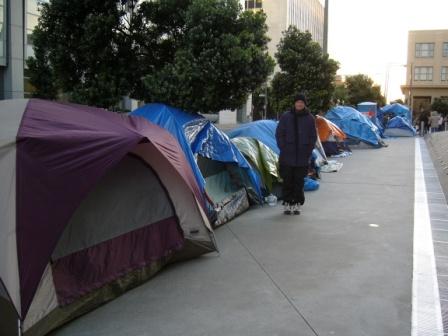 We arrived at the Federal Building in San Francisco on Saturday morning, unloaded our car and set up our tent at the end of the row of about fifteen tents curbside on Golden Gate Avenue. Though the week's weather had generally been calm, there had been some rain Friday evening. All of the tents were covered with tarps held down by a combination of string, rope, tape and bungee cords. We ended up lashing our tent and tarp covering to a tree so it wouldn't blow away, despite all the "ballast" we'd brought in the form of sleeping pads and bags, blankets, pillows, a bag with our clothing and a backpack filled with books and toiletries.

The hunger strikers, who were by then into their fifth day of subsisting on only water and Pedialyte (in order to get vital electrolytes) looked tired but were full of resolve to continue their strike until the SF rally and March to Senator Feinstein's office on Monday.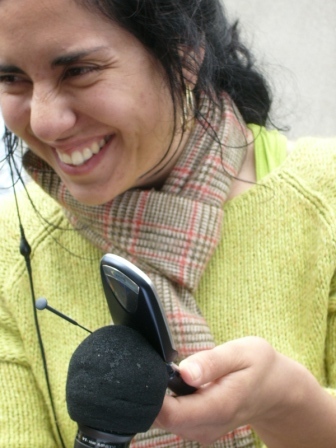 The rally on Saturday was part of the National Day of Solidarity, against Rep. Sensenbrenner's recently passed H.R. 4437 and the Specter Senate markup of this bill. During the rally, organizer Evelyn Sanchez received calls from other activists gathered at other actions around the country. Though it had begun to rain in San Francisco, nothing could diffuse the joy at the announcement by Eun Sook Lee of the National Korean American Service & Education Consortium that there were a million people gathered at City Hall in Los Angeles. Other calls came in from actions in Boise, Idaho and Philadelphia, Pennsylvania. Shouts of "Si, se puede," or "Yes, we can," (the rallying cry of Cesar Chavez's United Farm Workers during the grape boycotts of the 1960s and 70s) echoed at that rally and throughout the weekend, at every occasion.

Partway into the rally, we looked through the crowd and saw Molly McKay of Equality California, who had showed up to support the cause and the hunger strikers. We broke down in tears at seeing her, and when our turn to speak came, we invited both Molly and longtime SF queer activist Tommi Avicolli Mecca to stand with us in solidarity and to speak to voice their support for the immigrant community. Marta and I told the audience that LGBT immigrants were facing the same struggles, and that the fight for immigrant rights was our fight as well. It was wonderful to hear the response and to feel so welcome. (We were unable to take the photo because we were speaking, and the person with our camera had to deal with an emergency and could not take it either.)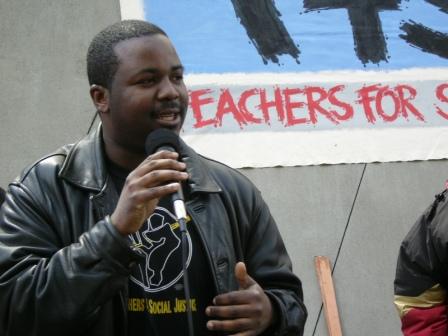 Other speakers at the rally included Jeremiah Jeffries of Teachers for Social Justice and SF People's Organization and Nancy Esteva, an immigrant from Oaxaca, Mexico clothed in traditional dress, who recited a poem she had written. Hunger striker Jay Pugao spoke about the fact that as a teacher, the Sensenbrenner and Specter bills would criminalize him and the undocumented youth he teaches.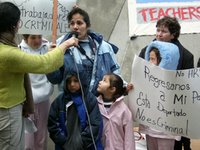 One of the most devastating speakers was a woman with her three young children. Her husband had gone to Immigration and Customs Enforcement (ICE) the day before to renew his work visa and was detained by officials. Her children were sobbing, and her oldest daughter spoke through her tears, saying "my daddy isn't a criminal."

One of the most energetic hunger strikers was Maria Reyes, who was known by the other strikers as "abuela," or grandmother. We also called her the Energizer Bunny, since she never appeared to suffer from the fatigue that the other strikers experienced, ourselves included. We found out later from one of her sons that she had originally intended to only strike for one day, but instead ended up going the entire seven days. One of her favorite things was chanting "el que no brinca es migra," or "those who aren't jumping are the INS." Maria's jumps were energetic all weekend long, while we could at the very best just bounce.

After the rally, we settled into our tent, putting up a Brazilian flag, as well as smaller American and rainbow flags. By this time, it was colder, since at this time of the year, the Golden Gate side of the Federal Building gets no sunlight except in the morning and the late afternoon. There was no such sun Saturday night. We grabbed some bottles of water and socialized with the other hunger strikers. An Aztec dance group arrived to perform and to bless the strikers. Each evening, a nurse went around checking the hunger strikers' vitals, and asking how much water they'd had during the day. On one evening a striker had experienced high blood pressure.

By Saturday night, it had gotten even colder and much windier. Though our tent was lashed to a tree and a sidewalk grate, it was still blowing around significantly. Each night of the week-long hunger strike, there was a candlelight vigil. Saturday night was no exception, but when the candles were passed out, there was no way they would stay lit. We all held hands in a circle, while a woman passed around burning smudge to bless all in the circle. A bullhorn was passed around, and each person was asked to say what kind of world they wanted. Many spoke of wanting a world where each person is equally loved and respected, no matter their race, their ethnicity, their skin color, or their immigration or economic status. After the vigil, we stood in the cold, drinking cinnamon tea and talking with the other hunger strikers and supporters, not yet ready to go to bed. Some of the strikers sat in a larger shelter that had been set up, with an altar with various icons and a giant shell in which to burn cedar incense to bless the site of the strike and the strikers themselves.

Sleep was difficult both nights, due to the wind, the city noise and the periodic sound of cars driving by and honking their horns in support of the strike. Since the tents were curbside, each time a car would drive by in the near lane, the entire tent would shake.

We woke early on Sunday and took advantage of the warmth of sunlight at the far end of the block with Maria Marroquin, the director of the Mountain View Day Worker Center.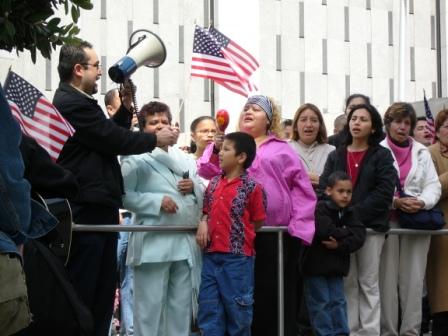 Around noon, we heard a group chanting in the distance, the chants steadily growing louder. It was a group from St. Boniface, a primarily Latino church several blocks from the site of the hunger strike. The group came with signs decrying H.R. 4437 and sang songs for the hunger strikers, who pulled out their chairs and blankets and sat to enjoy the groups' songs and cheers. This was a completely unplanned event! They walked over of their own accord to show their support. A different group from the same church came back at 3:00.

Sunday night's vigil included a performance by a Mexican band who decided to come and offer their music to keep up the spirits of the hunger strikers. This was also unplanned, and they too came out of their desire to be part of this historic event. The music was wonderful on yet another cold and windy evening in San Francisco, in what we had come to call the "Golden Gate Wind Tunnel." We never felt like the hunger was as big of an issue for us as was keeping warm. The cold was biting, and the only time we felt truly warm was in our sleeping bags at night and during the day.

Sleep was difficult Sunday night as well, this time due to street sweepers and a lone Brazilian who saw the flag on our tent at 4am and decided he needed to talk to his comadre, Marta. He got our attention with short beeps of his horn.

We again woke early on Monday, this time filled with excitement for the march and rally at Senator Dianne Feinstein's office. Our camp was full of action, as all the tents were torn down and the site was cleaned so it would appear that we were never there. Signs for the rally had been made the day before, and banners were put together. The hunger strikers met at the plaza at the top of the ramp leading to the Federal Building to discuss how everyone was feeling and whether they felt they could do the march. Several strikers felt that they would need wheelchair assistance, so arrangements were made for two wheelchairs to be brought to the Federal Building, just in case. We met a man with a flag with white stars on a blue background and rainbow stripes, passing out information on what he called "America's Migrant Rainbow Society." During the march, he worked his way around to walk behind us with his big, beautiful flag. It was like he was highlighting the fact that LGBT people are a part of this struggle.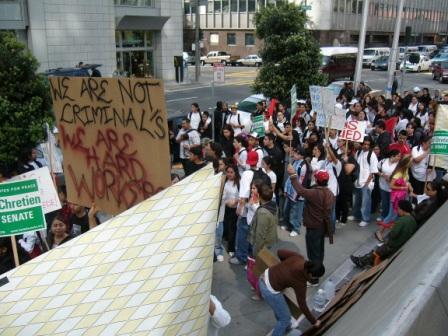 While we were meeting, supporters amassed on the sidewalks, and several times great cheers rose above the crowd noise, and we were told that students in Oakland and San Francisco had walked out of their classrooms and had arrived for the march. We heard reports that some students were told they would be suspended for three months for their walkouts. We heard that one school principal had closed the gates of the school so his students couldn't walk out. It was wonderful to see so many students and their supportive friends show up with their signs and their youthful energy. Immigration is an issue for so many of our youth, some of whom are undocumented through no action of their own, and for so many of them education stops at a high school level, since due to their status in this country, they cannot get student aid and have to pay out-of-state tuition in order to attend college. Even if they are able to go to college, they are still unable to work legally in this country. (On a happy note, as we write this update, we have heard that the DREAM Act has passed out of the Senate Judiciary Committee.) The DREAM Act applies to those brought to the U.S. more than five years ago when they were 15 years old or younger, who graduate from high school and have good moral character. The measure would grant them conditional residency. For many students, the DREAM Act is the only hope for a better life here in the U.S.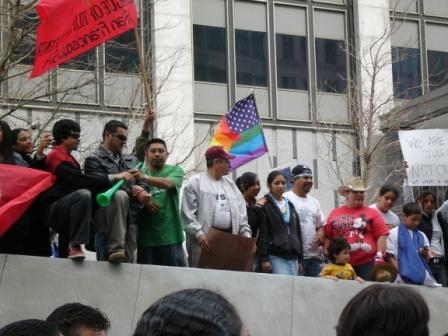 The scene at the Federal Building was hectic as more and more people arrived. They took us hunger strikers down to a support van, and we all linked arms as the march to Dianne Feinstein's office began. It was slow progress down to Market Street, as the exhausted strikers walked arm in arm in solidarity, several in wheelchairs, as students helped keep us in front and together. As we turned onto Market, we were met by a line of police officers on motorcycles who escorted the march down the street. Students and supporters helped lift the wheelchairs over the streetcar tracks and the street grates. People came out of their office buildings to watch, and people shouting through bullhorns competed for the attention of the marchers, shouting different chants.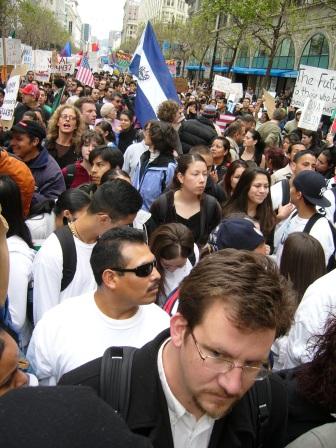 A ways up Market Street, there was excitement as we met up with the Veterans for Peace, a group of anti-war veterans who were completing a three-week, 241 mile march from Tijuana, Mexico to San Francisco. The march grew and grew until we finally turned onto Post Street and reached the McKesson Building, the home of Senator Dianne Feinstein's office. A mysterious photographer disappeared as quickly as he appeared. He shot close-range photographs of the hunger strikers, and we cannot say for certain what his actions meant. He behaved like no other photographer, and this got us questioning who he could be, suspicious of government surveillance of our march. But then we arrived at One Post Street, where the rally would begin, and as we waited for the sound equipment to arrive we forgot about the mysterious photographer. Speakers included hunger strikers Renee Saucedo of the SF Day Laborer Center, and Wayne Yang and Cesar Cruz, both educators who talked of having to turn in their students if the dangerous immigration proposals passed.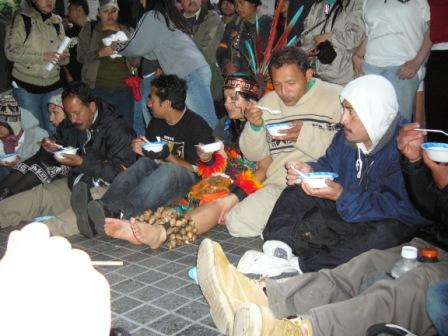 As the rally continued, the rain began, and we were moved to a sheltered area on the side of the McKesson Building, and we gathered in a circle to await the breaking of our fast. Claudia Cabrera-Lara, a transsexual woman from Guatemala spoke at the rally in support of LGBT immigrants dealing with this struggle.

Supporters surrounded us as we smudged ourselves with smoke from burning cedar needles gathered on a mountain in Arizona that was in the process of being destroyed to convert it into a ski hill, a horrible tragedy. As we sat, the supporters then handed out bowls of hot rice and ginger soup and vegetable broth. To the sound of cheers, we slowly began to eat to end our hunger strike.

We would like to thank the other hunger strikers and our support team, who helped make sure we were as comfortable and well taken care of as could be as we took a stand for the rights of all immigrants. Special thanks go out to Sheila Chung, the director of the Bay Area Immigrant Rights Coalition, who worked tirelessly on this action and who will always be among our dearest of friends. Other people we would like to thank are the nurses who daily checked on strikers' vital signs, the support team who took care of everything, the SFSU students who fundraised for the port-o-potty, and the wonderful donations of water and tea we got. In addition, many thanks toall the wonderful people who tirelessly worked in the background - Jim Nguyen, Hong-An Tran, Chris Punongbayan, Maria Poblet, Edgar Ayala, Arnoldo Garcia, Evelyn Sanchez, Colin Rajah, Angela Junck, Cari Sanders, Juana Flores, Raul Alcaraz, etc. If we forgot someone, please forgive us. We want to list these names to point out the tremendous team effort it took to pull off an event of this scope.

We arrived at home on Monday evening, and no sooner had we sat down when we saw on the news that a rally was forming in San Jose. We got back into our warm clothes and drove down. On the way, we heard a soundbyte from Senator Feinstein, in which she sounded downright immigrant friendly, calling immigrant workers an important resource to our nation. Senator Feinstein in the Judiciary Committee had voted yes on an immigration reform proposal that included none of the enforcement provisions we hunger strikers and our entire nation had been fighting against.

Marta spoke briefly at the San Jose rally, telling them that we had won the fight toturn back the enforcement proposals in H.R. 4437 and instead of "Si, se puede," she instead declared to the crowd, "Si se pudo," "Yes, we did!"

Read more at http://www.immigrantrights.blogspot.com/