Facts on the Uniting American Families Act
OFFICIAL TITLE AS INTRODUCED:
To amend the Immigration and Nationality Act to provide a mechanism for United States citizens and lawful permanent residents to sponsor their permanent partners for residence in the United States, and for other purposes.
WHAT IS THE PERMANENT PARTNERS IMMIGRATION ACT (PPIA)?
The UAFA would modify the federal Immigration and Nationality Act to provide same-sex partners of U.S. citizens and lawful permanent residents the same immigration rights that legal spouses of U.S. residents enjoy. Specifically, it would add the term "permanent partner" to the federal law's list of definitions of family, covering same-sex partners of U.S. citizens and lawful permanent residents.
The PPIA is currently stalled in Congress and in the Senate.
WHY SHOULD I SUPPORT THIS BILL?
Approximately 75 percent of the 1 million green cards or immigrant visas issued each year go to family members of U.S. citizens and permanent residents. However, the Immigration and Nationality Act's current definition of family does not include same-sex partners and unmarried opposite-sex couples.
Current U.S. law forces thousands of same-sex couples to be separated or live in constant fear of being stopped by officials who demand to see documentation and threaten detention. In some cases, same-sex partners face prosecution by the Immigration and Naturalization Service - including hefty fines and deportations. U.S. citizens are sometimes left with no other choice but to migrate with their partners to a country with more fair-minded immigration laws, and effectively denied the right to pursue happiness in their own land.
THE UNITED STATES LAGS BEHIND THE FOLLOWING 17 COUNTRIES THAT RECOGNIZE SAME-SEX COUPLES FOR IMMIGRATION PURPOSES:
Australia, Belgium, Brazil, Canada, Denmark, Finland, France, Germany, Iceland, Israel, the Netherlands, New Zealand, Norway, South Africa, Spain, Sweden and the United Kingdom.
HOW WILL THE MEASURE WORK?
Once the measure is enacted, binational, same-sex and unmarried heterosexual couples will have to meet the same requirements as binational, married couples. Some requirements include providing proof of the relationship -- including affidavits from friends and family or evidence of financial support.
Under the measure, a permanent partner is any person 18 or older who is:
(a) in a committed, intimate relationship with another adult 18 or older in which both parties intend a lifelong commitment;
(b) financially interdependent with that other person;
(c) not married to, or in a permanent partnership with, anyone other than that other person; and
(d) unable to contract with that person a marriage cognizable under the Immigration and Nationality Act.

The edited contents of this site were originally posted by the Human Rights Campaign.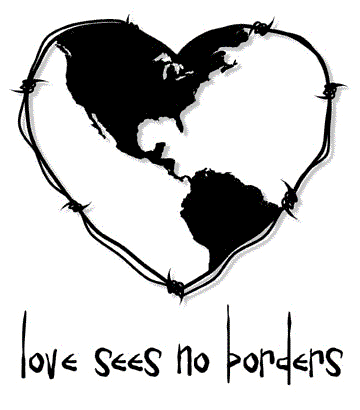 Copyright ©2005 Love Sees No Borders